St George & St Pauls
St George & St Paul is one church, with two locations - based in the town centre and nearby Westexe area of Tiverton, Devon.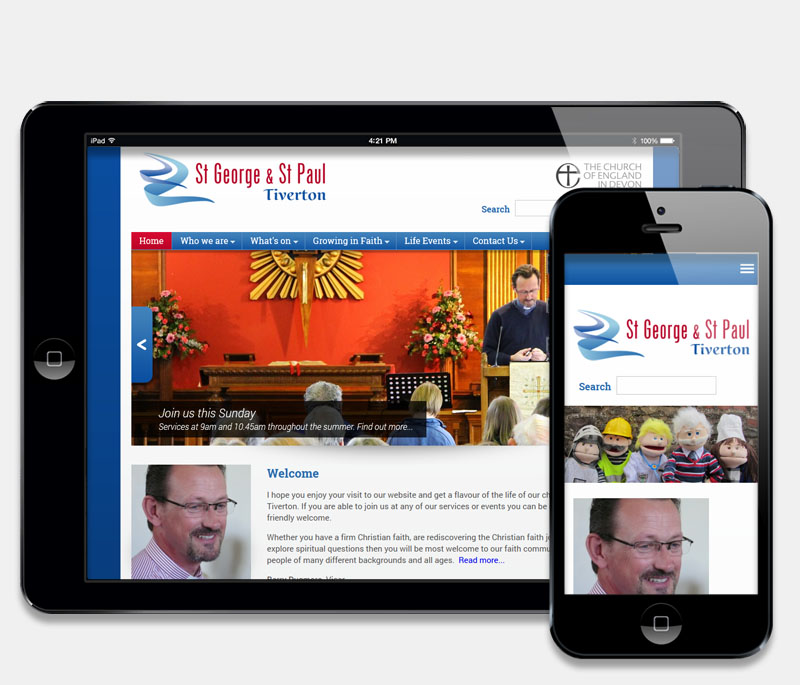 Applied Services
Requirement
St George's came to us with a common scenario. Having outgrown their original website, it had become cumbersome and unmanageable, both for their administrators and their visitors. They therefore wished to commission a new site, which would be easier to navigate, contain a host of new features and be more welcoming to both existing and newer visitors.
Approach
With so much existing site content on the old site, an essential first stage in development was to work with the client to consolidate existing pages and agree a new, more functional site structure. The new 'sitemap' had to contain existing and new content, and work for visitors with no prior knowledge of the church or its specific terminology. The new design, based upon the supplied colour scheme and content requirements, underwent our agile design process, allowing client feedback and amendments, before development approval.
The new Drupal CMS site features: Dynamic events calendar, user configurable news and media widgets, user editable galleries and slide shows, advanced search, newsletter subscription, scaling menus and a fully responsive layout.
I have just published this month's 'Word Out' newsletter and it is now soo easy. A couple of clicks and it's up and ready to go. This is going to revolutionise my workload. Thank you!!
Su Bowler - St George and St Pauls